This page is under-construction
(aren't they all?).

---
[home] [dan's page] [pipes] [top] [btm]
---
I smoke a pipe. Well, not "a" pipe, but one at a time at least. I don't know how many pipes I have, but my collection has doubled thanks to ebay.
I prefer, in about the following order, Danish freehands, Italian freehands, any freehands, then Italian bents, then everything else. I smoke a bulk blend provided by the local tobacconist, The Squire. It has African, Turkish, Virginia tobaccos and Latikia. Not everyone appreciates the aroma. :)
---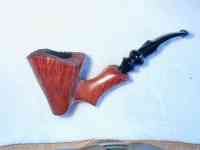 [Would you like to see more pipes]
One of my nicer pipes. A Ben Wade Intermezzo that I bought in the mid 70's. I have five Ben Wades, three just bought on ebay and a Preben Holm (see it in the rack below?). Preben Holm was the guy behind the Ben Wade freehands.
Here is a pipe rack I recently made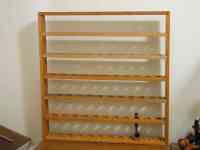 Click to see all the flaws
It's 30-3/4" tall by 30" wide and holds 63 pipes. I was tired of using miscellaneous boxes, various "off the rack" (sorry) racks. The standard racks don't have enough space between pipes and the next shelf is too low. As you can see, it's not great but will certainly do the job. It seems that not all the wood I bought was mahogany. *sigh* When the laughter stops, remember that this is my first "major" wood project and I used techniques I had never before attempted. OK, back to the laughter.
The offset design between shelves is my idea, although I have no doubt someone else is doing this. The offset allows for more width between pipes and a straight vertical rack instead of the usual stairstep design. The insets for the pipe bowl are designed with my meager tools and skills in mind. A rounded bottom would have been preferred, but difficult with my tools.
---
[home] [dan's page] [pipes] [top] [btm]
Contact us at Daniel R. Rhodes
Last Edit Date=02/05/01